COR-RK600
Rack Frame for Rack Mount Security DVR, Servers and Network Hardware
COR-RK600 shown above with optional COR-RK620 shelves and one ECLRK690 power strip.
The COR-RK600 is the frame alone, no shelves, no power strip.
COR-RACK is a kit that consists of one COR-RK600 frame, two COR-RK620 double sided vented shelves, and one COR-RK610 keyboard shelf.
This sturdy steel frame is ready to accept trays and shelves for your network installation. It can hold several DVRs and network servers as well as associated support hardware.
A fully populated rack frame is shown below.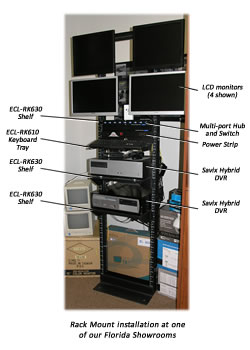 Stands 7' tall
Measures 19" wide, from inside edge of left side to inside edge of right side.
Metal base with holes for secure attachment to floor
Reinforced corners
Perfect for DVrs, baluns, hubs
Color: BLACK
Easy to assemble
Hold up to 700lbs. (max.)
Accessories include multiple outlet power strip (COR-RK690), keyboard shelf (COR-RK610), and vented equipment shelves (COR-RK620/630)

Please contact us for a specification sheet that covers this product.
OUR FOCUS IS YOUR PROFIT
Cortex Security Solutions
OUR FOCUS IS YOUR PROFIT | Cortex Security Solutions