COR-578:
Compact Outdoor Super Bullet CCTV with OSD
The Super Bullet outdoor camera uses advanced video processing functions that lift traditional CCTV video technology to a new level. Each member of this product line provides the user with crystal clear video images that can be modified using a variety of techniques.
Advanced OSD Menu
Users and installers alike will appreciate the advanced video features available with this camera. These features are courtesy of the Nextchip® video processing system and you access them through the OSD menu. For a full discussion and explanation of all selections, and how to navigate through the OSD menu, click here.
The following sections explain some of the new icons/features you see above.
Pre-Programmed Saves Time & Money (PrePro)
OSD menu cameras can sometimes require the installer to spend several minutes adjusting menu settings. This eats up time. This can be daunting and expensive when faced with numerous cameras. PrePro (Pre-Programmed by Professionals) helps you out. When you reset the camera PrePro makes sure all options are set to optimum. Use this option if you adjust settings, or find someone else has adjusted settings, and the result is a bad picture. Reset the camera, check the image, and it's probably good to go.
NOTE: This camera is also set to PrePro straight from the box.
Higher Voltage (Overvoltage) Tolerance
This camera requires 12VDC. Some power supplies exhibit voltage "drift", especially if they are older. During "drift" (or surge) voltage may go up to 13VDC, 15VDC or higher for a short period of time. This camera has been built to tolerate higher voltage surges - up to 20VDC - and won't be damaged during a surge condition.
NOTE: We do not recommend prolonged exposure to DC voltage above 12V. Supply voltage should be checked during regularly scheduled maintenance periods. Continuous exposure to voltage levels above 12VDC may void your warranty.
Wide Dynamic Range (WDR)
WDR (or DWDR - the "D" stands for "digital) is a form of enhanced backlight compensation. This features protects video images by filtering out high levels of backlight while preserving foreground colors & luminance values. In action, WDR captures two images - one with short exposure and one with longer exposure - and combines them to retain the best features of both images. The images below display WDR in action.
High Light Compensation (HLC)
For a long time now thieves and unsavory individuals have known that you can "blind" a CCTV camera by shining a bright light directly into the lens. HLC was designed to combat this disabling technique.
HLC finds the brightest point of an image and replaces it with a mask color. This technique reduces the hazy white "cloud" around the light source and eliminates disabling glare. Depending on the product, you may be able to select the mask color, the sensitivity of the mask, and transparency of the mask.
Day/Night Operation
True day/night operation without infrared LEDs depends on the video sensor and shutter design. True day/night cameras let you see colors in the dark, compared to standard IR enabled cameras that are limited to black-and-white when they switch to night mode. The camera has various OSD settings that allow you to tailor exposure and light sensitivity for your surveillance environment.
Dynamic Noise Reduction (DNR, 2DNR & 3DNR)
This refers to the cameras ability to dynamically adjust the picture, using various methods, to eliminate noise (sometimes seen as "grainy" or blurred video). OSD settings can allow you to manipulate this function.
Auto-Tracking White Balance
If you recall ever seeing photographs of winter scenes where the snow has a blueish-tint, then you have witnessed a failure of the camera to produce accurate white balance.
Florescent light, sunlight, incandescent light and other light sources exhibit different color temperatures. Auto-tracking white balance makes sure that as light color temperature changes, the color white is reproduced accurately. This is important to understand, since some surveillance environments present unique lighting challenges, such as a public transit platform that is illuminated by differing combinations of sunlight, incandescent light and florescent tubes throughout the day.
Backlight Compensation (BLC) & Intelligent Backlight Compensation (iBLC)
Backlight compensation refers to techniques that enhance the appearance of objects in the foreground of a video image that has a bright light behind the subject. A camera without backlight compensation will render a foreground image that may be too dark to view, since it is compensating for the bright light that is overwhelming the video sensor.
Intelligent backlight compensation takes this one step further. I helps to insure that foreground image colors as well as contrast are protected and reproduced accurately. This form of backlight compensation appears in products with advanced chipsets.
Adaptive Tone Reproduction (ATR)
ATR helps to bring out the tone of colors on objects that are located between a bright area and a very dark area in the field of view.
1/3" color CCD video sensor
Nextchip® video processing chipset
Resolution: 600+ TV lines
2.8-12mm varifocal, F1.6, IR optimized
External varifocal controls - no need to disassemble the case to adjust focus/zoom.
Effective pixels:

NTSC: 976 x 494 (482k)
PAL: 976 x 582 (568k)

Minimum illumination 0.0 LUX with IR on
42 infrared LEDS, 850nm
IR range: 90'+
Weatherproof, vandal resistant case
Power: 12VDC
Overvoltage tolerant to 20VDC
Weatherproof: IP66
Metal bracket, mounting kit, and attached video/power cable included.
Colors: Gun Metal Grey
Backlight compensation, high light compensation, ATW, AGC, enhanced intensity range, ACR and more in OSD Menu (click here)
Click to download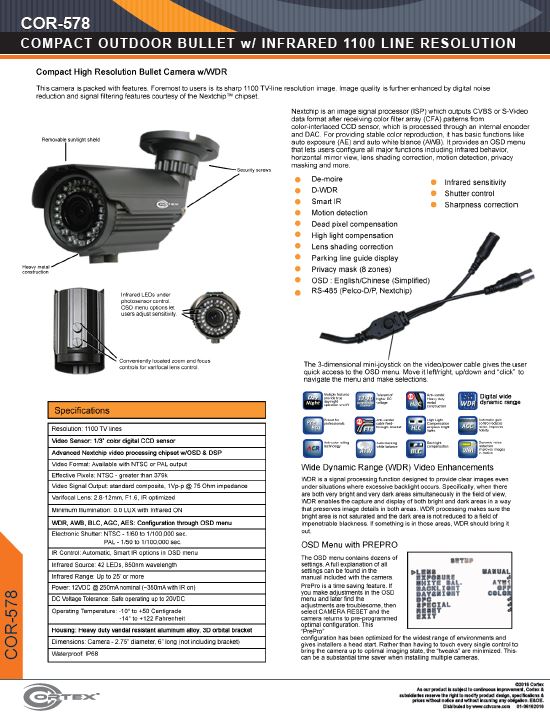 OUR FOCUS IS YOUR PROFIT
Cortex Security Solutions
OUR FOCUS IS YOUR PROFIT | Cortex Security Solutions