COR-577BDS:
Vandal Resistant Designer Black Super DOME with Effio™
An outdoor vandal resistant CCTV security camera with radiant infrared that is immune to glare, haze and internal reflections.
Effio™ Video Processing Technology
The Effio video processor sits at the analog front end (AFE) of the video image capture process (see simplified diagram at left). Here it intercepts signals prior to digital signal processing. This provides the DSP circuitry with clean and efficient signals that make its job easier, freeing up space for further enhancements to be added to the available real estate on the chipset at micro-component level. These enhancements create higher resolution and provide more options in the OSD.
Effio video processing depends on a chain of support circuitry. If the support circuitry is mismatched it injects noise. Noise un-does the primary purpose of Effio by destroying image quality at the front end. Some CCTV camera manufacturers find it profitable to substitute low cost generic components. This saves manufacturers big bucks over large production runs. But engineers know generic parts make mismatched support circuits, and that means noise in the signal. Our engineers specify matched components throughout the entire design, insuring clean signals and giving this Cortex Security camera full Effio quality.
Loaded with Features, Including PrePro
The multilingual OSD menu in this camera provides the user with a window into a wealth of options. There are so many features and options it's easy to get confused. In fact some OSD menu cameras force you, as the installer, to spend a lot of time going through each setting until you find the right combination for optimal performance. We know time is money, so we created the PrePro option.
PrePro stands for Pre-Programmed. Our engineers have already programmed default settings in the chipset for optimal performance. That's a lot of words to say "when you reset the camera to factory default, it's good-to-go 99% of the time."
Of course PrePro doesn't handle every situation. But it will satisfy a wide variety of users in most common settings, and the time/cost savings alone make this camera incredibly attractive for large scale installations.
Dual Power & Sniper Infrared Source
Major features in this dome CCTV security camera include two of our innovations, dual power sourcing and a high-intensity externally mounted point source IR LED.
Use 12VDC or 24VAC with this camera without fear of having a switch or jumper set incorrectly. The camera automatically handles power conversion. This simple innovation makes The COR-577DBS dome camera easy to add to existing surveillance network installations.
The outside of the camera holds a recessed "sniper" style, high intensity LED that makes it impossible for anyone to use the cover of darkness. The position of the IR LED, on the outside of the case, eliminates infrared haze, glare, and any possibility of IR reflection off the inside of the dome.
Compare Dome Cameras
Not sure which dome camera model will fit your needs best?Check out our Dome Comparison Chart, which shows all of our dome camera models.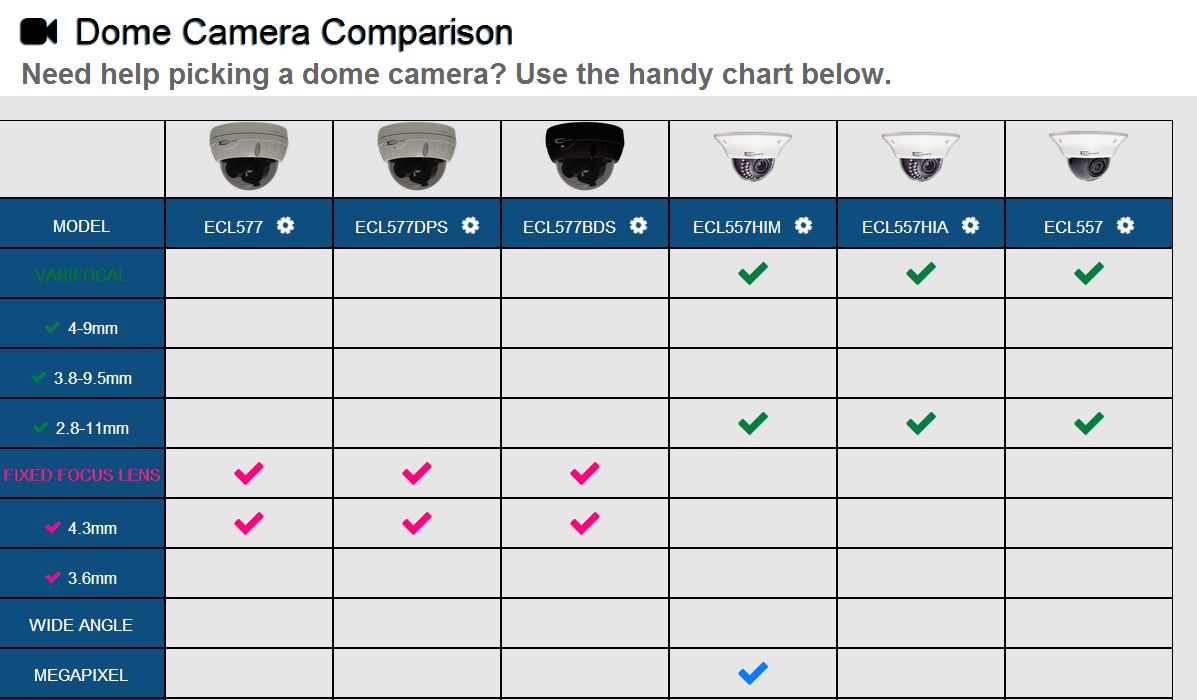 1/3" color Sony™ ExView™ CCD video sensor
Resolution: 700+ TV lines
Effio™ Image Processor
One high intensity infrared LED mounted on the outside of the camera shell
NO infrared reflection, glare or haze
Advanced Wide Dynamic Range
2.8-12mm varifocal
Effective pixels:

NTSC: 976 x 494 (482k)
PAL: 976 x 582 (568k)

Weatherproof, vandal resistant case
Power: 12VDC
Overvoltage tolerant to 20VDC
Weatherproof: IP66
Mounting kit, and attached video/power cable included.
Heavy duty internal metal 3D bracket resists vibration and movement - perfect for moving applications and places subject to heavy vibrations, jarring motion.
Colors: Black
Backlight compensation, high light compensation, ATW, AGC, enhanced intensity range, ACR and more in OSD Menu (see below).
OSD Menu
A comprehensive list of all OSD features and options would make this page too long. Highlights include:
Dynamic Noise Reduction
Advanced Wide Dynamic Range
Privacy Masking
Motion Detection
Shutter Control
Day/Night Settings
White Balance Controls
Luminance Controls
Backlight Compensation Controls
Picture quality control
For a thorough examination of the OSD menu and its settings, click here
OUR FOCUS IS YOUR PROFIT
Cortex Security Solutions
OUR FOCUS IS YOUR PROFIT | Cortex Security Solutions