COR-588R:
Outdoor SuperMax IR Turret with Secure OSD Programming
We upgraded our best selling outdoor turret camera model COR-588 with a new video sensor and a new chipset with a revised OSD programming method.
Secure OSD Menu
Some installations require additional care with CCTV security camera installation and placement. These environments can present complex challenges for management and personnel, especially in unsupervised areas where individuals can touch, move, and manipulate a security camera attached to the ceiling or the wall (if they can reach it).
If a camera has an exposed cable that can be pulled out or otherwise reached, and that cable has an OSD mini-joystick on it, then an individual can change camera settings and possibly disable the security camera. This type of "attention" can be hard to notice, since after changing settings the vandal will often push the cable back into place in the hope that their activity will go un-noticed and the camera will remain "off line" for an extended period of time, giving them a chance to exploit the surveillance weakness.
For a thorough examination of the OSD menu and its settings, click here.
There is also the phenomenon of the "curious" employee or visitor that notices this mini-joystick and finds it too attractive to ignore.
This type of attention usually requires the owner or security professional to reprogram the camera. It may even require a visit from a maintenance technician or even an installer who will be asked to remove the equipment for repair or replacement.
We secure access to the OSD menu by adding an RS485 control line. You can use this line to program the camera through an attached DVR, just like programming a PTZ camera. Or you can use our programming module (COR-CN1) and a portable monitor to program the camera.
Easier Installation
Eliminating the mini-joystick also makes this camera easier to install. There are two reasons for this.
First, the hole drilled through the wall can be smaller since the cable is smaller. Pulling the cable is easier.
Second, since accessing the cable is no longer required, there is no need to make sure that extra length of cable needs to be reached after installation, so it can be installed in such a way as to completely block access to the cable.
Major Functions
The OSD menu in this CCTV security camera contains the following functions (this is a partial list -go here for more):
Wide Dynamic Range
True day/night adjustment
Digital shutter
Highlight and backlight compensation
Dynamic digital noise reduction
White balance control
Much more, including PrePro, infrared threshold adjustment, and other features professionals appreciate.
Compare Dome Cameras
Not sure which dome camera model will fit your needs best?Check out our Dome Comparison Chart, which shows all of our dome camera models.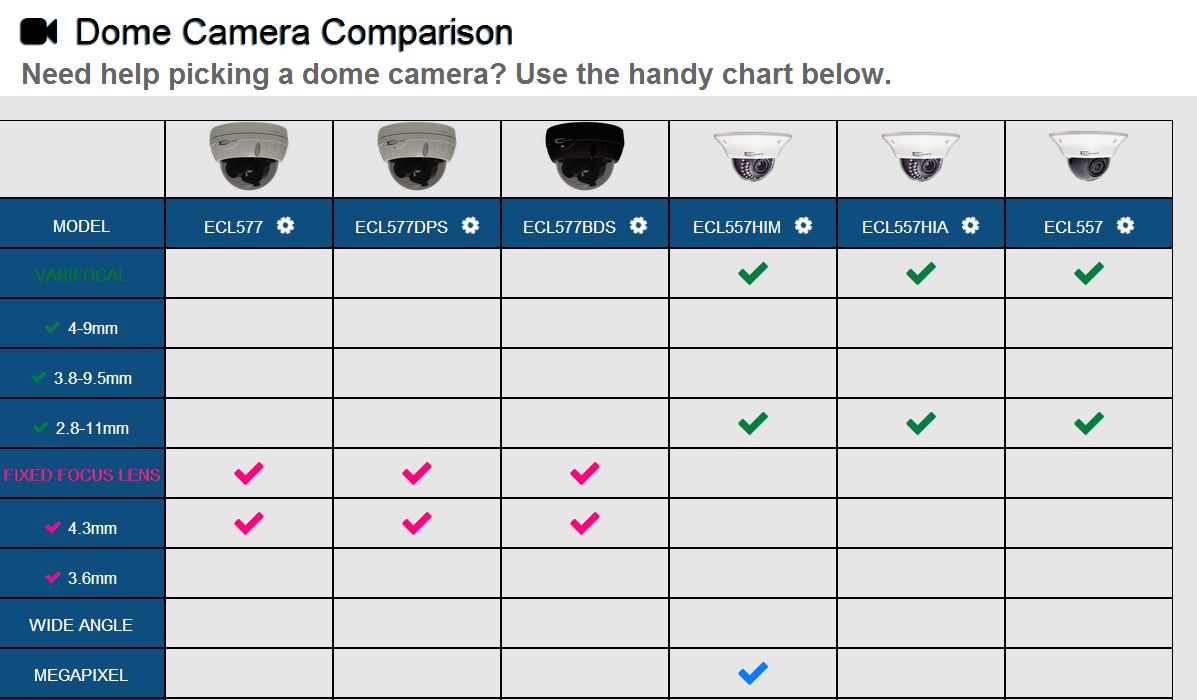 1/3" color GEN III CCD video sensor
High Resolution: 650+ TV lines
4-9mm varifocal lens with external adjustment using supplied security tool
Auto-iris
Effective pixels >379k
Internal IR array with 42 IR LEDs
IR range: 80'+
Tamper and vandal resistant all-metal case
Power: 12VDC, with over-voltage protection up to 20VDC (transient)
Weatherproof: IP66, good for indoor or outdoor placement
3D orbital bracket allows placement on virtually any vertical, horizontal, or oblique surface
Mounting kit, and attached video/power cable included.
Backlight compensation, high light compensation, ATW, AGC, ACR and more in OSD Menu (see below).
RS485 control lines
Requires attached security DVR with RS485 control to program OR COR-CN1 controller (sold separately).
OSD Menu
A comprehensive list of all OSD features and options would make this page too long. Highlights include:
Dynamic Noise Reduction
Privacy Masking
Motion Detection
Day/Night Settings
White Balance Controls
Backlight Compensation Controls
Picture quality control
For a full discussion of the OSD menu in this security camera, click here.
OUR FOCUS IS YOUR PROFIT
Cortex Security Solutions
OUR FOCUS IS YOUR PROFIT | Cortex Security Solutions