Savix 16 DVR Series:
Professional Linux Based Security DVRs
Professional surveillance video users sometimes request additional functions and hands-on opportunity than casual users and most residential consumers. The Linux-based Savix series security DVRs are here for them.
Savix security DVRs provide professional security managers with functions like web/DHCP server, auto-reboot, dynamic DNS support, and event driven email alerts. They can work with traditional CCTV technology (analog video) and IP streaming technology (digital video). All the regular abilities are of course included, like motion/non-motion triggered recording, multi-user web viewing, various playback and search option and export/backup utilities.
Multilingual, Multiuser
A multi-lingual Linux-based OS provides an easy to use interface for full recording of up to 16 surveillance cameras. Cascade the system for larger security installations and monitor up to 256 cameras connected to a networked system of 16 DVRs (assuming all are 16-channel Savix security DVR models).
DVR User Manual Previews
Following are peaks into the user manual
Dynamic DNS
There are two options when using dynamic DNS. One is to use a third-party DDNS service and the other is to use Cortex Security DNS (EDNS) service.
Specify the domain name, user, password, and server name if you use the third-party DDNS service option. You must first register a domain name using either or other dynamic DNS services in order to enable this function.
Search Mode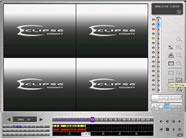 In Search Mode, you can review recorded audio and visual data, search data from a specific date and time, and zoom in and out on a selected camera channel. Here, you can also save and print still images, and archive recorded data to various back up devices.

Hybrid. Connect to standard analog CCTV cameras or IP cameras (depending on Savix model)
Display speed: 240 IPS (Real Time)
Display resolution: 720x480 (D1)
Recording speed: 240 IPS max.
Record modes: time-lapse, pre-event, alarm, motion
Recording resolution: 320x240, 720x240, 720 x 480 (D1)
User defined motion detection area
Search modes: Calendar, time bar (minute/hour)
Massive storage space available - up to 6 internal HDD max. (IDE interface)
4, 8, and 16 channel models available
Video outputs: VGA, composite call monitor
OUR FOCUS IS YOUR PROFIT
Cortex Security Solutions
OUR FOCUS IS YOUR PROFIT | Cortex Security Solutions