Your Trail: /
Home /
AHD Bullet Cameras /
COR-H5BV
COR-H5BV
Medallion 5MP Cortex AHD Camera with 2.8-12mm Motorized Zoom Lens
AHD | TVI | CVI | 5MP & 4MP | 2K HD Camera
Best long range infrared coverage with stealth IR cover. This premium quality outdoor varifocal bullet camera provides users with 5MP AHD / TVI output or 4MP AHD / TVI output (OSD selectable). The built-in infrared array provides exceptionally even and consistent long-distance viewing. The varifocal lens can be adjusted quickly thanks to an Installer's cover. A mini-joystick on the cable harness assists with on-screen display (OSD) menu and remote UTC is also on-board.
Cortex 5MP cameras are perfect for Medallion Hybrid DVR installations
Varifocal lens adjustment on front bottom access port for easy access
5MP over Coax or video Baluns
5MP over coax using AHD or TVI is a great way to use existing cable runs in order to upgrade to a higher resolution. Cortex 5MP cameras are affordable and long lasting. These models can be installed for residential and commercial applications and pair perfectly with Cortex Medallion Series Hybrid DVRs.
Make sure test this 5MP camera online or at a local showroom.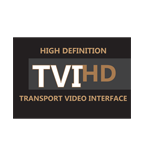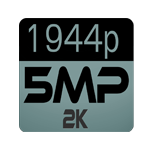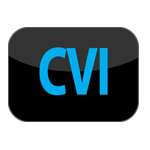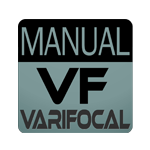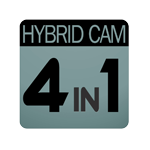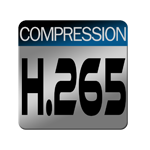 CLICK FOR SPECIFICATION PDF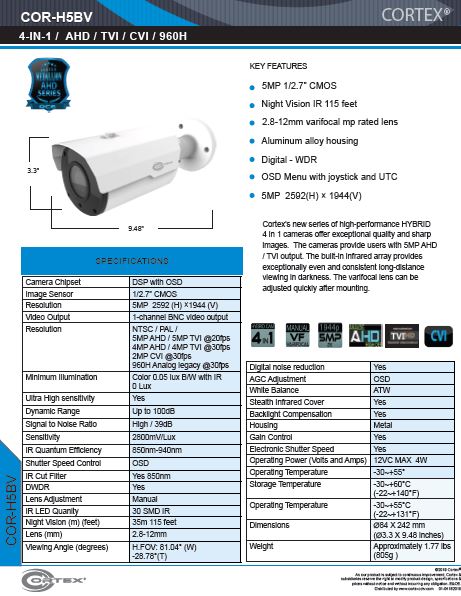 Main Features
Ultra High sensitivity plus long range Infrared
Includes interline HDR image synthetic algorithm that expands Dynamic Range up to 100dB
Stealth Infrared cover for aesthetic style
High signal to noise ratio SNR:39dB
Sensitivity:2800mV/Lux
Min. Illumination: Color 0.05lux B/W with IR 0 Lux
Infrared distance: 115 feet Average ( Up to 150 feet with higher AGC)
Improved infrared quantum efficiency in the range of 850nm-940nm
UTC: coaxial controls (Paired for Medallion DVR)
Shutter Speed Control : OSD
AGC Adjustment : OSD
White Balance : ATW /
NTSC / PAL
5MP AHD / 5MP TVI @20fps
4MP AHD / 4MP TVI @30fps
2MP CVI @30fps
960H Analog legacy @30fps
Input voltage: 12V DC 4W
Material: Metal outdoor housing
Weather rating: IP66
Mounting: Tamper resistant bracket
OUR FOCUS IS YOUR PROFIT
Cortex Security Solutions
OUR FOCUS IS YOUR PROFIT | Cortex Security Solutions