COR-RK690
Rack Mount Power Strip
The COR-RK690 fits a 19" rack. It is designed for our COR-RK600, but may fit other 19" rack frames. The front contains 2 outlets, the rear has 8 outlets. Provides multiple 120VAC connections for rack mount hardware and nearby devices.
A fully populated COR-RK600 rack frame is shown below, with an COR-RK690 power strip.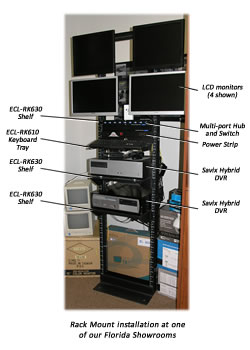 19" wide
Metal case
On/off switch
2 outlets on front
8 outlets on rear
Easy to use

Please contact us for a specification sheet that covers this product.
OUR FOCUS IS YOUR PROFIT
Cortex Security Solutions
OUR FOCUS IS YOUR PROFIT | Cortex Security Solutions