COR-HDR1
3G-SDI / HD-SDI /SD-SDI TO HDMI Converter
COR-HDR1 converts from 3G-SDI, HD-SDI and SD-SDI to HDMI which enabling users to use cost effective HDMI display to SDI based equipment. It also provides 2 channel stereo audio. The application could be using for HD CCTV HD-SDI camera and broadcast video monitoring..
SDI Input Connector: BNC 75ohms
SDI Output Connector: BNC 75ohms
HDMI Output Connector: HDMI Type A
Power Consumption:750mA (Max)
Power Supply:Switching DC5V 1AMP
Power Input 2.1mm DC plug
Operating Temperature: 0 to 55° Storage: -20 to 85°
Storage Temperature: -20 to 85°
Humidity: up to 95%
Dimensions : 2.6" x 4.3 x 1" (inches)
Weight:7 Ounces
Download a Specification Sheet by clicking the link below.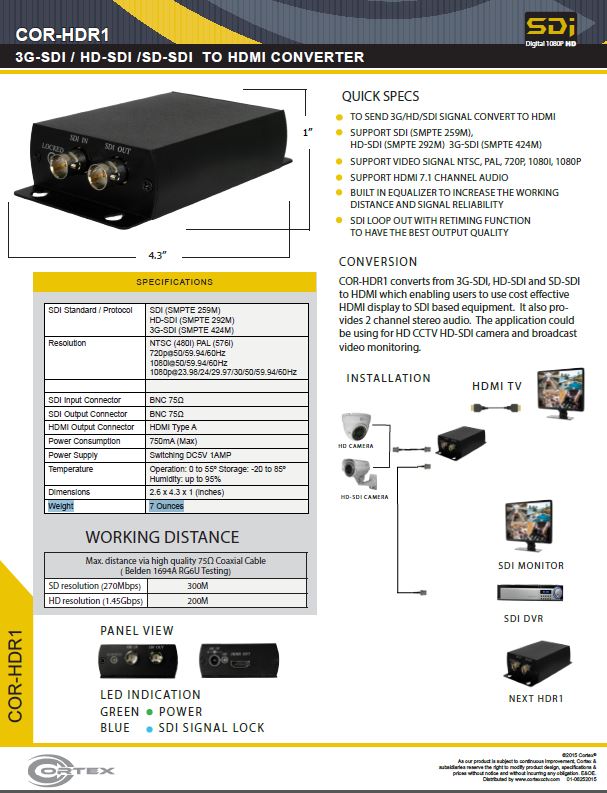 OUR FOCUS IS YOUR PROFIT
Cortex Security Solutions
OUR FOCUS IS YOUR PROFIT | Cortex Security Solutions