COR-HDV1
24VAC TO 12VDC Power Converter(1000mA Max)
This HD-SDI UTP Protects equipment from high voltage surges such as lightning strikes. UL grounding requirements for coaxial cable offer protection from hazardous voltages that may occur on the shielding. Because of the physical length of ground wires, UL grounding systems may appear as an open circuit to lightning caused, high frequency surges and provide no protection from these surges getting into a home and destroying CATV converters, TV sets, VCR, Camera etc.
Equipment Connector :BNC MALE (75ohms)
Cable Connector: BNC FEMALE (75ohms)
Transmission Rate: 2.97Gb/s (Max)
SDI Output Connector :BNC_M 75 ohm
Insertion Loss : 1.1dB @ 2.97Gb/s
Resisting Surge : 8KV (Max)
Discharging Current: 10KA (Max)
Dimensions 75.5 x 25.4 x 25.4 (mm)3 x 1 x 1 (inches)
Weight 70 (g) 2.4 (ounces)
Download a Specification Sheet by clicking the link below.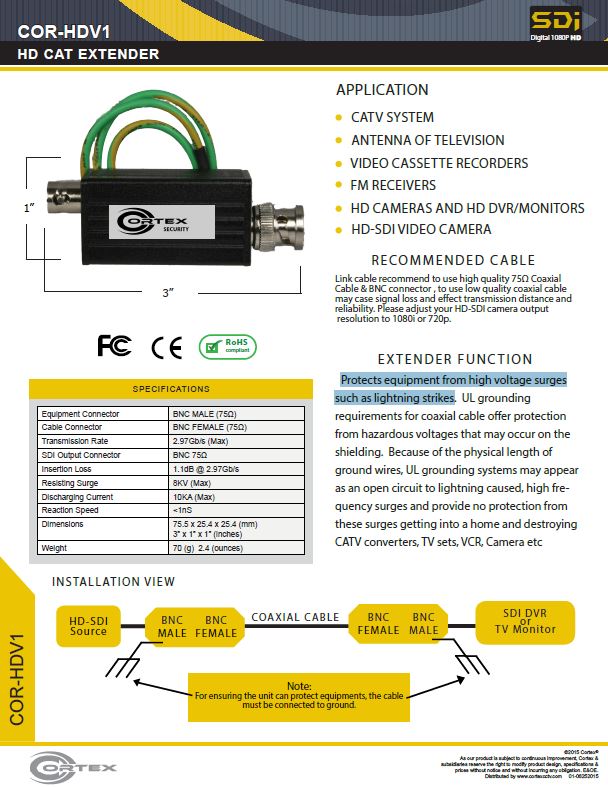 OUR FOCUS IS YOUR PROFIT
Cortex Security Solutions
OUR FOCUS IS YOUR PROFIT | Cortex Security Solutions