COR-598HIM:
High Resolution with Varifocal Lens and Mechanical IR filter
This outdoor (rated at IP65) camera has a DC-drive varifocal lens and an automatic mechanical IR filter that makes your picture bright and clear during daylight hours (with color video) and nighttime when the infrared sub-system kicks in (when the camera switches to black-and-white mode).
When night time comes, forty infrared LEDs send a blast of IR light up to 65' away from the camera. This automatic system lets the camera operate in ZERO visible light. Picking up intruders in absolute darkness is a standard function for this camera. Video quality remains high when switching to infrared mode thanks to a mechanical IR filter that reduces focus shift, and a manual varifocal lens allows the user to zero-in on exactly what they wish to monitor.
On-Screen Display (OSD) Menu
Advanced functions include several levels of backlight compensation, white balance and shutter speed. Slow shutter settings are possible using the Sens Up option. All of these options and more can be set using the mini-joystick (control nub) on the attached cable.
For a full description of all the available OSD menu options, click here.
Anti-Vandal Features
Hard metal construction is the first line of defense against vandals. The second is a jointed elbow hinge, which makes it impossible for would-be vandals to physically move the camera and change its aim. Once the aim is set and the elbow joint locked down (using the included tools), nothing short of breaking the bracket will move the camera.
Sony 1/3" color HAD CCD video sensor (ICX638)
High resolution: 600 lines or greater
Digital signal processing
2.8-11mm varifocal lens
Auto-iris
Effective pixels:

NTSC: 768 x 494 (379k)
PAL: 752 x 582 (437k)

Mechanical IR filter
40 IR LEDs
IR Range: 65' or more, depending on atmospheric conditions
Auto-gain control (AGC), auto-white balance (AWB) and auto-electronic shutter (AES) settings include show shutter (Sens Up)
OSD menu for advanced camera configuration settings.
Bracket, mounting kit, and attached video/power cable included.
Anti-vandal features like all metal construction and jointed elbow bracket.
Color: SILVER
Power: 12VDC (adapter not included).
Click to download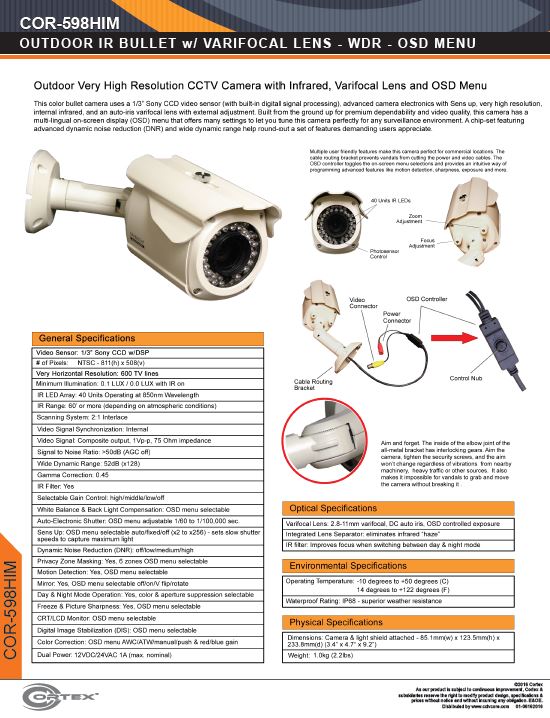 OUR FOCUS IS YOUR PROFIT
Cortex Security Solutions
OUR FOCUS IS YOUR PROFIT | Cortex Security Solutions