COR-599WR:
Super Hi-Res GEN 3 Outdoor CCTV with OSD, WDR, HLC, BLC, TRUE DAY/NIGHT
Crystal clear 600+ TV-line video is just the start for this outdoor CCTV camera. A hardened, all metal case and cable-feed-through bracket make it vandal resistant. Internal radiant infrared, under automatic control, lets it "see" in the darkest of nights or in totally darkness like you'd find in warehouses or storage rooms that are locked and assumed to be secure.
Video pickup starts with a 1/3" GEN III CCD video sensor which is coupled with a 3.6mm wide angle lens. The GEN III (Gen3) CCD is a super high resolution analog component designed to work in a traditional CCTV camera design. This gives installers an easy upgrade path. Unlike SDI or HD products, this is a true plug-and-play upgrade that can be applied to any surveillance network regardless of recording device, since it provides standard composite 1Vp-p video signals at 75-ohm impedance.
Secure OSD Controller - No More Unauthorized Changes
This camera uses an external RS485 controller for programming OSD functions. You can also use an attached security DVR to communicate with the camera (and program OSD functions). This eliminates the "dongle" or "mini-joystick" that you'll find on many OSD cameras, either on the cable itself or on the back of the camera. This eliminates any possibility of tampering with camera functions should unauthorized personnel become aware of these controls and somehow access them. Communication format is standard RS485 and is compatible with industry standard devices from most manufacturers.
1/3" color CCD video sensor with built-in digital signal processing
600 tv lines or more
Internal smart IR array
All metal case with cable-feed-through bracket for vandal resistance
3.6mm wide angle lens
True day/night options through OSD menu
External OSD programmer for additional security.
Power: 12VDC with over-voltage tolerance
Small form factor makes it easy to fit in tight places.
Click to download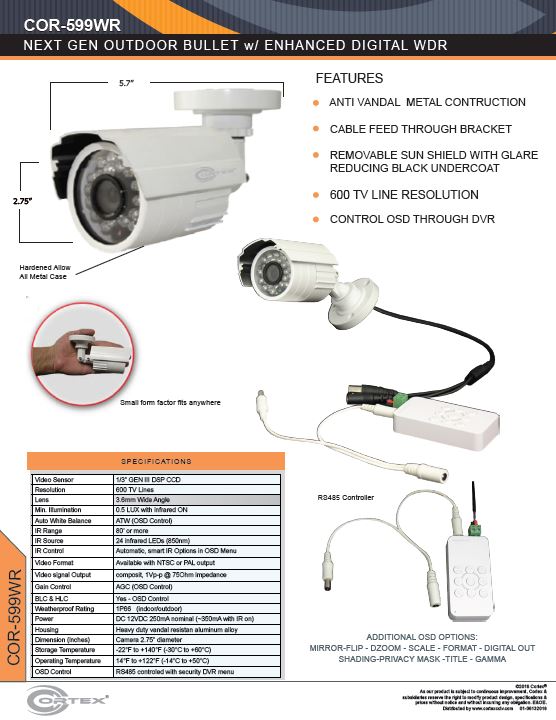 OUR FOCUS IS YOUR PROFIT
Cortex Security Solutions
OUR FOCUS IS YOUR PROFIT | Cortex Security Solutions