COR-600H9:
700-Line Outdoor CCTV with Long Range IR & DROP-DOWN INSTALLER'S PORT
You don't have to disassemble this camera to make adjustments to the OSD menu or to fine-tune the varifocal lens. Open the drop-down installer's hatch and you have the controls at your fingertips. You'll also be amazed at the exceptional clarity and quality of the video it creates, especially at night using the built-in radiant infrared array.
High Resolution with W-Dynamic
This tough, distinctive looking CCTV security camera has a high performance color 1/3" Sony™ CCD video sensor and advanced digital signal processing. The OSD menu has a number of features that users and installers will find handy, including W-DYNAMIC (called ATR in some models) and PrePro.
W-Dynamic provides adaptive tone reproduction, which protects color reproduction on objects that appear between very bright and very dark sections of the screen. In cameras without W-Dynamic such an object would appear washed out, or invisible, lost within a fog or haze extending from the area of high luminance.
Smooth, High Intensity Radiant Infrared
Users are raving about this camera's infrared array. We used advanced computer modeling techniques to manufacture and place a variety of IR LEDs with differing characteristics in the front of the camera. This mix of high, low, and medium intensity infrared emitters provides a smooth and even beam of invisible infrared light. This eliminates the bright spots and dark spots that plague other manufacturers. If your primary application is night-time CCTV imaging, then this camera is perfect for you.
Advanced digital signal processing chipset with advanced tone reproduction
9-22mm varifocal lens
Bright white strobe deterrent LED (with switch)
All metal case with anti-vandal, anti-tamper features
All metal bracket with pivot joint
OSD menu
W-Dynamic image protection
Smooth long range infrared array (120' or more)
700 TV-line resolution
Power: 12VDC (not included)
OSD PrePro for easy installation
Drop-down installers port for easy access to varifocal controls, mini-joystick for OSD menu, test video connector for use during installation, and switch for deterrent strobe LED.
Click to download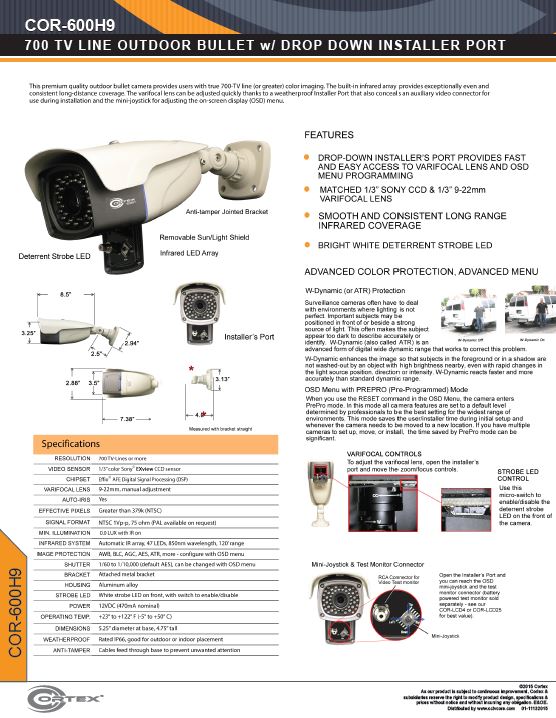 OUR FOCUS IS YOUR PROFIT
Cortex Security Solutions
OUR FOCUS IS YOUR PROFIT | Cortex Security Solutions