COR-640:
License Plate Capture Camera with Varifocal Lens, auto-Iris, Long Range IR
For people who operate parking facilities, and property managers interested in monitoring visitors and traffic, license plate capture can be an important forensic tool if an incident occurs. You need the ability to capture clear, sharp video images of small targets on vehicles that are often in motion. The long range varifocal lens together with the video processing system in The COR-640 security camera is designed to do just that.
We put a strong 1/3" format color Sony® CCD video sensor behind a 5-50mm varifocal lens for optimal range and picture quality. It provides crystal clear color video images during the day and when night falls the camera turns on a built-in infrared subsystem. Fifty-three IR LEDs cast a 120' long beam of invisible light, which is far enough to make placement of this camera highly flexible.
Given that most parking facilities and properties will have their own light fixtures, this IR subsystem may seem superfluous. But there may be times when a light is turned off by accident or on purpose, so it's good to know your camera can handle the dark. To insure picture quality stays high we've installed a mechanical IR filter to eliminate the nuisance of "IR shift" (defocusing caused by wavelength difference between IR light and visible light).
This outdoor surveillance camera is sealed against rain and inclement weather, and has an all metal housing. You can adjust the lens focus and field manually without removing the camera from the bracket or disassembling the camera. A removable/adjustable metal sunshield is included. Due to the wide variety of mounting possibilities, we do not include a bracket.
Sony 1/3" color CCD video sensor
High resolution: 540 lines or greater
Digital signal processing
5-50mm varifocal lens
External controls available to adjust the lens w/o disassembling or removing the camera from its mounting point.
Auto-iris
Effective pixels:

NTSC: 768 x 494 (379k)
PAL: 752 x 582 (437k)

Mechanical IR filter
53 IR LEDs (auto-on, auto-off depending on lighting conditions)
IR Wavelength: 850nm
IR Range: 120' (36 meters)
Auto electronic shutter
Power: 12VDC (sold separately)
Auto-gain control (AGC), auto-white balance (AWB) and auto-electronic shutter (AES)
Bracket, mounting kit, and attached video/power cable included.
Color: WHITE
Click to download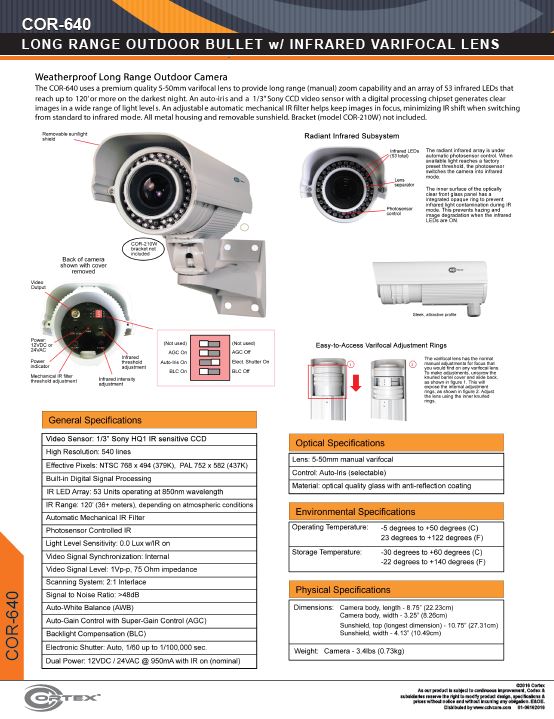 OUR FOCUS IS YOUR PROFIT
Cortex Security Solutions
OUR FOCUS IS YOUR PROFIT | Cortex Security Solutions