COR-589:
Varifocal IR Hybrid CCTV Dome with OSD Menu
This outdoor dome with high resolution CCD architecture and OSD menu is designed for anti-vandal applications and incorporates a secure varifocal lens adjustment with screw in covers.
Like the 580, the 589 uses advanced video processing functions that lift traditional CCTV video technology to a new level and provides the user with crystal clear video images that can be modified using the on board OSD
Equipped with Adaptive Tone Reproduction (ATR)which balances bright and dark areas in the field of view
Loaded with Features, Including PrePro
The multilingual OSD menu in this camera provides the user with a window into a wealth of options. There are so many features and options it's easy to get confused. In fact some OSD menu cameras force you, as the installer, to spend a lot of time going through each setting until you find the right combination for optimal performance. We know time is money, so we created the PrePro option.
PrePro stands for Pre-Programmed. Our engineers have already programmed default settings in the chipset for optimal performance. That's a lot of words to say "when you reset the camera to factory default, it's good-to-go 99% of the time."
Of course PrePro doesn't handle every situation. But it will satisfy a wide variety of users in most common settings, and the time/cost savings alone make this camera incredibly attractive for large scale installations.
1/3" color Sony™ ExView™ CCD video sensor
Resolution: 700+ TV lines
2.8-12mm varifocal
Effective pixels:
0.0 LUX with Infrared ON (0.03 no IR)
42 infrared LEDS, 850nm
IR range: 60-90 feet
Weatherproof, vandal resistant case
Power: 12VDC
Safe operating up to 20VDC
Weatherproof: IP66
Backlight compensation, high light compensation, ATW, AGC, enhanced intensity range, ACR and more in OSD Menu (see below).
Advanced Wide Dynamic Range, known as Adaptive Tone Reproduction (ATR), offers superior performance in situations with high backlight and deep shadows.
Click to download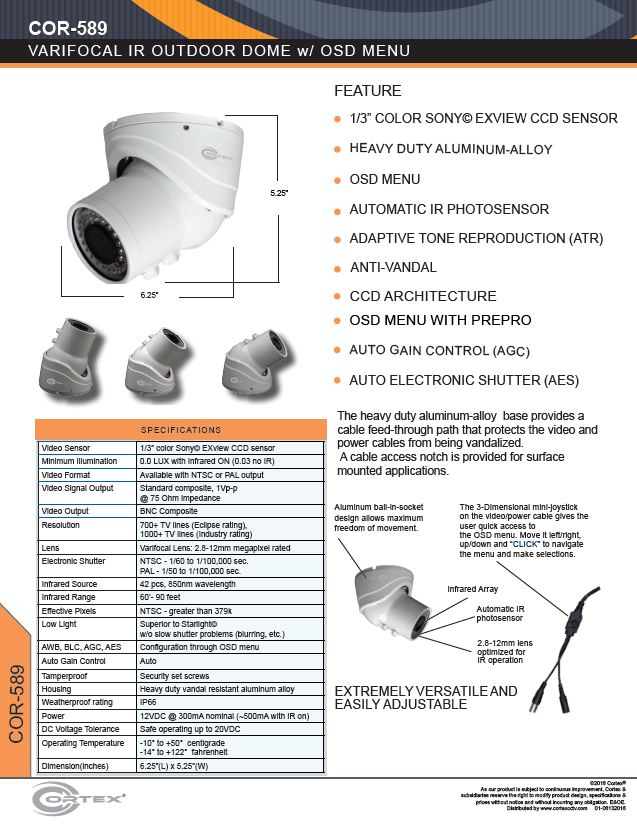 OUR FOCUS IS YOUR PROFIT
Cortex Security Solutions
OUR FOCUS IS YOUR PROFIT | Cortex Security Solutions