COR-553:
Professional Indoor Security Camera
Standard Features
Having an industry standard lens mount and switch selectable settings is just the start of the list of professional features built into this CCTV camera.
Image Pickup - Super HAD 1/3" CCD
The heart of a security camera is the video sensor. This camera uses a Sony 1/3" Super HAD CCD for image pickup. If you have a favorite industry standard lens,then good news! The industry standard C- / CS-lens mount is designed for standard lenses. Don't have a lens? No problem -we've got lenses too, click here if you want to see our selection.
Professional Features in High Demand
We've packed a lot of features into this security camera. You'll find it easy to adjust things like backlight compensation, and auto-iris control. An IR-cut filter improves video quality when used with an external radiant infrared source, such as our COR-IR30 or similar products. It even has a non-polarized power input, so you can't burn it up when connecting power. Speaking of power, it can take 24VAC or 12VDC, at your discretion.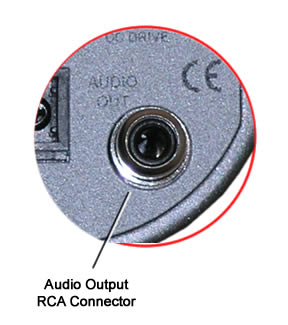 Includes Audio
A built-in microphone captures sound at the camera location, so if you have the proper surveillance network you can hear what is happening at the camera location. Using one of our professional security DVRs and an additional speaker, you can have 2-way communication - a huge advantage when dealing with remote locations.
1/3" color Sony™ Super HAD CCD video sensor
Digital signal processing
High resolution: 480-lines
Effective pixels:

NTSC: 512 x 492 (251k)
PAL: 512 x 582 (297k)

0.2 LUX minimum illumination, f1.2
AES - Auto-electronic shutter
AWB - Auto white balance
AGC- Auto gain control
BLC- Back light compensation (selectable)
DC or Video auto-iris support (selectable)
Built-in anti-aliasing and IR-cut filter
Use an external source of radiant IR light for 0.0 LUX operation
C or CS- mount lens compatible (C-ring provided)
Non-polarized power plug - inexperienced (and even experienced) installers can't burn it up by accidently applying power backwards (a common problem).
Dual Power: 12VDC or 24VAC
Lens sold separately. Click here to see our selection of C- and CS-mount lenses.
Built-in microphone (RCA connector)
Operating temperature: -10°C - 50°C (14°F - 122°F)
Weight: 400g (14.1oz)
OUR FOCUS IS YOUR PROFIT
Cortex Security Solutions
OUR FOCUS IS YOUR PROFIT | Cortex Security Solutions