COR-SP460R:
Indoor PTZ Dome Camera with Recessed Ceiling Mount Bracket
The COR-SP460R indoor PTZ dome camera represents an affordable PTZ solution with features normally found in much more expensive PTZ cameras. Video is clean and sharp thanks to an auto-focus CCTV camera module with an advanced Sony CCD video sensor.
This recessed ceiling mount PTZ camera has no dead spot - full 360° continuous rotation - and 90° tilt with auto-flip. It connects to any DVR that features industry standard analog (1Vp-p composite) video inputs. Pan & tilt movement under manual control is rated at 36° per second, with up to 100° per second on presets.
Connection is easy with an RS485 communication line. For control functions please consider our COR-CN430 or COR-CN530 PTZ controller, or you can use other controllers with Pelco, Pelco-D, Pelco-P or Ultrak communication protocol.
Got a tough PTZ environment?
Consider model COR-SP460RI. It's the same PTZ camera with the addition of a super tough, high impact resistant clear LEXAN dome instead of the standard regular acrylic dome
PTZ Accessories
Looking for PTZ controllers and PTZ compatible DVRs? Joy sticks? Pan motors? Brackets? Replacement domes? You can find all that and more in our PTZ Accessories
Full Sony Solution FCB-EX480-1010
1/4" Sony ExView HAD CCD video sensor
560 iTV lines (industry standard used by other CCTV manufacturers)
470 eTV lines (Cortex Security standard - a more precise standard)
Effective pixels:

NTSC: 768 x 494 (379k)
PAL: 752 x 582 (437k)

Digital signal processing (DSP)
4.1-73.8mm varifocal lens
Electronic slow shutter
Backlight compensation
Auto-white balance (AWB, ATW, indoor, outdoor, manual)
Auto-gain control (AGC)
Alarm function
Picture freeze function
Electronic flip
24-position privacy zone masking
Auto-focus module
18x optical zoom, 12x digital zoom (216x total)
Auto-focus module
Auto IR cut filter
Sensitive to 0.7 LUX
360° continuous pan rotation
Rotational speed: 36° per second, up to 100° per second on presets
Pelco, Pelco-D, Pelco-P, and Ultrak
RS485 and Cortex Security control protocols
Manually variable speed control
64 programmable presets accurate to 0.05°
Smart scan & touring (auto scan)
Manual focus and auto-focus (with adjustable levels of sensitivity)
Aluminum housing
Recessed ceiling style bracket
24VAC power source (included)
Indoor design
Use the link below to Download a Specification Sheet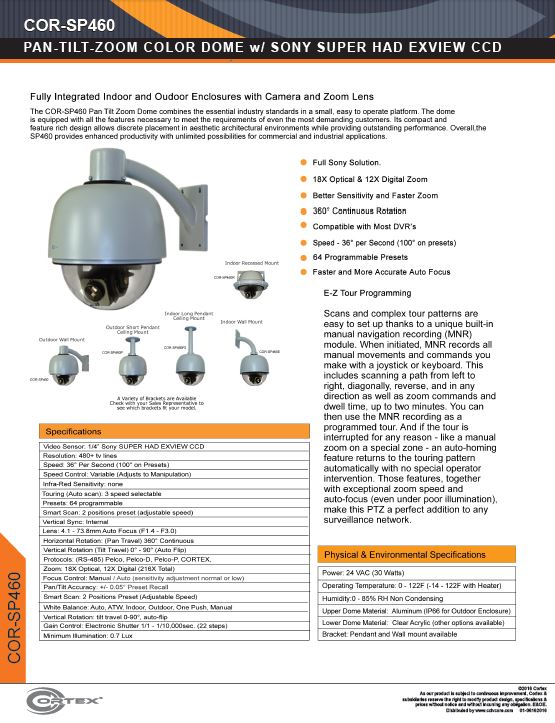 OUR FOCUS IS YOUR PROFIT
Cortex Security Solutions
OUR FOCUS IS YOUR PROFIT | Cortex Security Solutions