NEXXA16:
Hybrid NVR with HD Quality Video
Nexxa Series: The Corporate NVR
With the ability to monitor up to 16 IP cameras, or a mixture of IP cameras and standard technology (analog) cameras, the Nexxa16 Network Video Recorder (NVR) fits the requirements of corporate and small business locations perfectly.
See the Nexxa demo at:http://74.175.80.98:82/
UN: admin, PW: admin
NOTE: Use MS IE 7+
Dual Buffer Merge (DBM) Technology
Unique to the Nexxa series is our ground breaking data streaming technology that protects images viewed from any device but most particularly protect video on portable devices like cell phones and PDAs.
This technology uses dual data streams that are active concurrently. If one stream is interrupted the other stream seamlessly takes its place. This virtually eliminates issues like dropped packets and jerky video. Video performance across a wide range of viewing devices is uniformly rock solid. NO OTHER MANUFACTURER HAS THIS TECHNOLOGY!
Standards not Forgotten
Offering crystal clear video, massive storage space and dependable performance, corporate users will be pleased. All standard DVR/NVR features are included (motion detection, privacy mask, digital zoom, etc.).
Make sure to download anNVR SPEC SHEET and learn more about this fantastic NVR recorder.
Standalone design using embedded LINUX OS
16-channels for 16 IP cameras or a combination of IP and standard, legacy CCTV cameras.
Dual Buffer Merge technology to make mobile viewing care free
H.264 compression
HDMI & VGA video output
Audio recording
Digital Zoom
Record modes: manual, motion, alarm, schedule
User defined motion detection area
Megapixel recording
D1 recording
Gigabit network communication
Built-in web server allows remote viewing without buying special software
Multiplex operation: multi-camera playback, remote view, set-up, and back-up simultaneously
TCP/IP network interface remote viewing via client software and Internet Explorer (IE)
RS485 for PTZ devices
User/admin password schema
Download a DVR Specification Sheet by clicking the link below.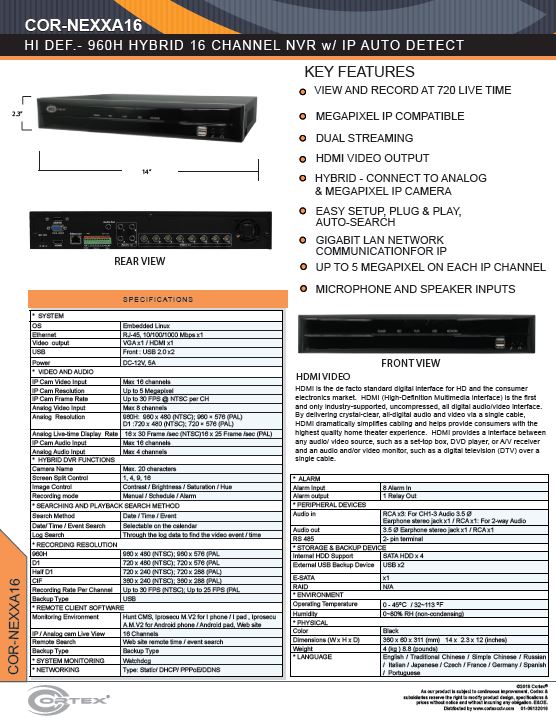 OUR FOCUS IS YOUR PROFIT
Cortex Security Solutions
OUR FOCUS IS YOUR PROFIT | Cortex Security Solutions