NEXXA4:
NVR - Network Video Recorder
Introducing Nexxa 4
Forget legacy CCTV. Forget traditional analog security cameras. Nexxa 4 doesn't need them. Nexxa 4 doesn't want them. Nexxa 4 is a totally network oriented digital video recorder.
This NVR uses LINUX to provide a graphical user interface that is simple and easy to understand. The LINUX OS can be upgraded and as usual all upgrades (if any are required, and when available) can be downloaded for free from our dedicated support website.
Connect this product to your surveillance network and let it find your IP cameras. It can auto-detect and record real time video from up to 4 megapixel IP cameras WITH 2-way audio (if the cameras are equipped with microphone and speaker), which lets you communicate with the person in the monitored zone.
Dual Buffering Merge Technology
Unique to this DVR is a video protection method called "dual buffering merge" technology. This technology uses multiple video streams to insure that network errors like dropped frames and other situations do not effect your video quality. If a problem occurs in one stream then another stream is right there to pick up the slack. No loss of quality, not loss of video data. The Nexxa series is the ONLY NVR ON THE MARKET to offer this technology!
Standalone design using embedded LINUX OS
Dual buffering merge technology
4 IP camera channels
Real time recording
4 two-way communication channels
Microphone input, speaker output
VGA connector
2 USB 2.0 ports on front
H.264 compression
Digital Zoom
Record modes: manual, motion, alarm, schedule
User defined motion detection area
Built-in web server allows remote viewing without buying special software
Multiplex operation: multi-camera playback, remote view, set-up, and back-up simultaneously
TCP/IP network interface remote viewing via client software and Internet Explorer (IE)
RS485 for PTZ devices
Download a DVR Specification Sheet by clicking the link below.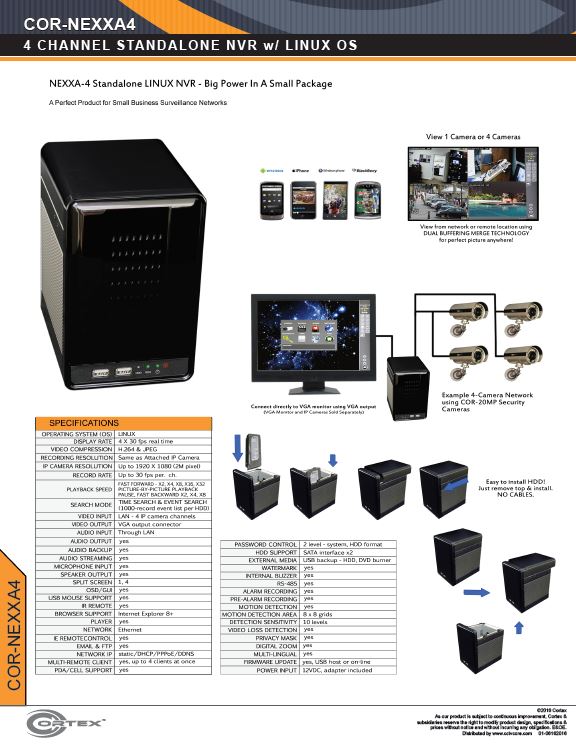 OUR FOCUS IS YOUR PROFIT
Cortex Security Solutions
OUR FOCUS IS YOUR PROFIT | Cortex Security Solutions