NUBIX8RX:
3G/4G Compatible 8-Channel Real Time Security DVR
The Nubix 8RX has just the right combination of features and speed to satisfy many corporate and residential clients.
Built from the ground up for reliable operation, this security DVR uses the rock solid LINUX operating system. Configuration is easy thanks to a hierarchal graphical user interface with clearly defined menu selections. Best of all it lets you capture Real Time video (30fps) on all 8 channels at once using standard CCTV cameras (traditional analog surveillance cameras).
Mobile Viewing
Video compression and streaming capability are compatible with 3G/4G standards so you can use your iPhone or Android device for remote, mobile viewing.
Multilingual User Interface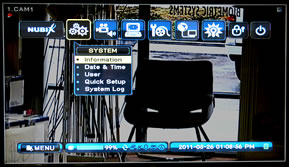 All DVRs have one thing in common - they need user attention before they can be put into service. They need to programmed, configured, setup - use whatever phrase is most comfortable. The configuration menu of the Nubix RX is graphically based and is easy to understand. Major categories of operation are broken down into logical chunks with self explanatory labels. You can navigate the menus using the IR remote control, the buttons on the front of the DVR, or through a remote connection (using MS Internet Explorer or Safari browsers).
The user interface is bilingual and aside from English it contains many languages from Europe, Asia, and South America (including Spanish).
Firmware is also upgradeable. Using our free support site, users can download software updates (when available), put them on a thumb drive, and easily update their system. This is another function built into the user interface.
This real time security DVR system is packed with features.
H.264 video compression standard
Streaming video compatible with 3G/4G standards
Eight camera inputs (traditional CCTV security camera style)
Multiple alarm inputs and outputs
Multiple audio inputs
Multiple monitor outputs
Time lapse recording, event based recording, time & event, emergency/panic mode recording
Synchronized multiple camera playback
Free Content Management Software (CMS).
Administrator and User password based security
PTZ control
OUR FOCUS IS YOUR PROFIT
Cortex Security Solutions
OUR FOCUS IS YOUR PROFIT | Cortex Security Solutions