Your Trail: /
Home /
Medallion Dome Cameras /
COR-IP8FISH
COR-IP8FISH
Outdoor 8MP Panoramic Network Camera for 4K IP systems with Audio
H.265 | 8MP Panoramic Outdoor Camera | Network 360° | PoE
8MP Outdoor Panoramic Network Camera with 360° view and PoE. The High Resolution CMOS technology provides amazing night time shots in full color. This Medallion network Camera has with 1.1mm fixed lens with 4K resolution and audio microphone. Panoramic immersive technology dewarps the images on web-browser, NVR view and Playback through recorder and software.
The IP8FISH Outdoor fisheye network camera from Cortex is the perfect solution for 360 degree observation using the latest panoramic technology. This rugged IP camera allows users to get a great feel and control of an area while adding features like dewarping and ePTZ that further enhances the user experience. Not only can you move around the image with digital pan tilt zoom controls, you can also perform these tasks while on the go from the comfort of your smart phone or CMS surveillance software.
A multi-channel break out view option allows 4 camera or 9 camera cropped views from a single fisheye camera deployment. The user can then adjust each individual window using ePTZ immersive dewarping. These amazing viewing options are available on live, playback and remote viewing.
The Medallion Fisheye immersive experience is a great tool for business owners and warehouse managers.

Take full advantage of these 8MP fisheye models by complimenting the installation with a Cortex® Medallion series NVR and CMS software.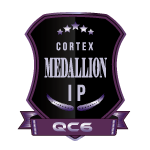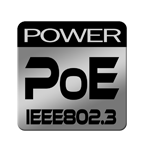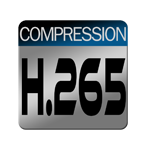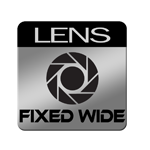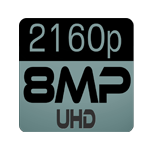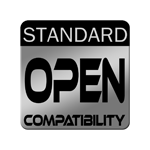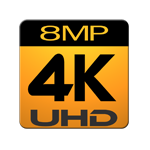 CLICK FOR SPECIFICATION PDF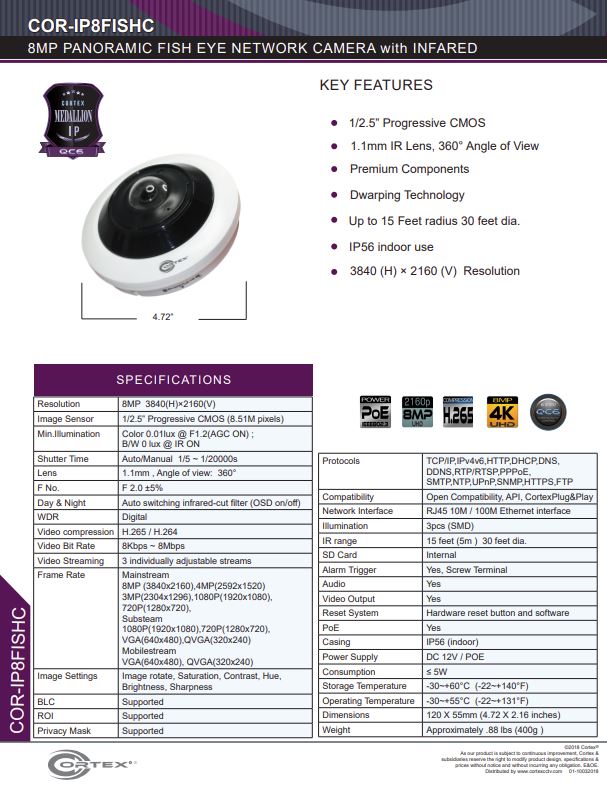 Main Features
Fisheye Network Camera for Outdoor
1/2.5" Progressive CMOS (8.51 pixels)
8MP 3840(H) × 2160(V) Resolution
On-board audio microphone
Cortex® 4k panoramic immersive technology
1.1mm Lens with 360° or 180° Angle of Panoramic View
H.265 / H.264 Video Compression
On-Board audio designed for weatherproof installations
Selectable mounting options and menu configuration Wall mount, ceiling mount or angled mount
Premium Components
Cortex® panoramic immersive technology
Dewarping Technology on NVR, Smartphone apps and web browser
IE browser dewarping and ePTZ functions
15 feet Radius (5m) IR Range (30 feet diameter)
Highly sensitive in low light
IP66 outdoor use
Dynamic Noise Reduction for low light environments
Auto switching infrared-cut filter (OSD on / off)
Multiple Adjustable Video Streaming
SD card slot for edge recording PoE (Power over Ethernet) for easy installation Open compatibility and Cortex Medallion plug and play
OUR FOCUS IS YOUR PROFIT
Cortex Security Solutions
OUR FOCUS IS YOUR PROFIT | Cortex Security Solutions