COR-ACC900:
Proximity Card Reader with Keypad, Buzzer & LED
Proximity card readers control access by requiring a user to present an ID card or enter a PIN on a keyboard or keypad.
The COR-ACC900 proximity card reader is an advanced access control card reader designed for indoor use. It can read prox cards and has a keypad for PIN entry. A bi-color LED and a beeper provide visual and audio feedback.
The COR-ACC900 can operate in network mode using the COR-ACC1000 controller, or in standalone mode. The control mode, card capacity, card type and more options can be assigned by the user.
Maximum card read distance depends on the environment and setup, but is approximately 15cm (5.9 inches). We recommend the for best results.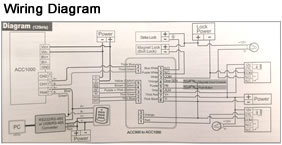 Constructed of tough ABS plastic, this card reader is sealed against the weather and is suitable for indoor or outdoor placement.
Best when used with our controller, model COR-ACC1000
12 character numeric keypad
Visual feedback: 1 red/green LED
Audible feedback: Internal transducer (buzzer/beeper)
Keypad will lock for 30 seconds after continuous error operation
11 sets of time codes
Up to 120 holiday schedules
Built-in watchdog to prevent system halting
Support delay relay auto-relock function
RS-485 support for networking (via controller or directly)
User assigns control mode, card capacity and card type
RF Frequency / Reading range 125 kHz / 10-18cm
Networking: RS-485, 9600, N, 8, 1
External reader port: Suitable for all WG, ABA reader, 125K, 13.56M (Mifare) or 2.4G reader
Door relay: 12VDC @ 2A NO/NC/COM 0.1-60 sec. latch type
Alarm relay: transistor output/serial output (selective)
DI input: Egress button / door sensor / card sensor
Tamper switch
Serial port: limit switch (form C)
Dimensions: 112mm x 76mm x 25mm (4.41" x 2.99" x .98")
Connect to PC using COR-CN550
OUR FOCUS IS YOUR PROFIT
Cortex Security Solutions
OUR FOCUS IS YOUR PROFIT | Cortex Security Solutions